MAP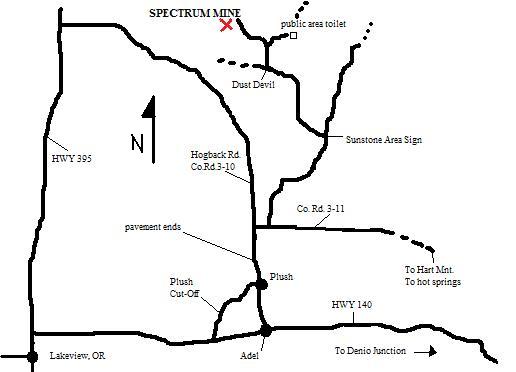 Written Driving Directions to Spectrum Sunstone Mines
When driving from the south follow these directions :
(Stay on the main roads according to our directions. After Plush, OR... if you are unsure: do not turn unless there is a sign that says sunstone (some of the signs are very weathered). You will cross 5 cattle guards on the dirt road.)
Follow highway 395 north through Lakeview, OR and then head east on highway 140 towards Adel.
After mile marker 15 you will see "Plush Cut-off" sign, turn there (left).
Set odometer at Hart Mountain Store in Plush, OR to 0.0 miles.
Follow road (Co. Rd. 3-10, a.k.a Hogback Rd.), (which takes a sharp bend to the east at 3.6 miles).
At 5.2 miles the pavement ends, continue on dirt road.
At 10.1 miles turn east (right) onto Co. Rd. 3-11.
Go 1/2 mile (reads 10.7 on odometer) and turn north (left).
(Do not turn until you reach the next sign...)
At 19.2 miles you will see the "Sunstone Area 5 miles" sign, turn left.
Slow down!! Dangerous curves, especially at 20.4 miles and 22.4 miles.
After the cattle guard you will see several mines in the distance. We are the furthest mine... look for the tipi!
24.1 miles turn right on road after passing Dust Devil's sign. You will be heading towards the Public Collection Area.
(If you are expecting to arrive at night please set up camp in Public Collection Area (follow signs)...continue directions in morning!)
Take the first left or the second left (before reaching Public Collection Area bulletin board)! Follow the road. Please sign in at the office, and don't run over the sage brush.
IF YOU ARE DRIVING FROM THE NORTH, PLEASE READ THE FOLLOWING INFORMATION.
From Bend, Oregon take highway 20 east to Riley. Take highway 395 south. Turn left - east- on Hogback Rd (near mile marker 64 - which is north of Abert Lake). Follow Hogback Rd. until the turn for Co. Rd. 3-11 (about 19 miles) where you turn left. Continue with directions above from Co. Rd. 3-11.
Here are my directions for my Seattle friends that have visited, or are planning a visit...please follow these directions to Bend, OR, and then read previous paragraph... http://www.mapquest.com/maps?1c=Seattle&1s=WA&2c=Bend&2s=OR