Himalaya Tourmaline Mine Dig
Lake Henshaw Resort
26439 Highway 76
Santa Ysabel, CA 92070
(Hand-drawn. Please refer to an actual road map before traveling. Thank you.)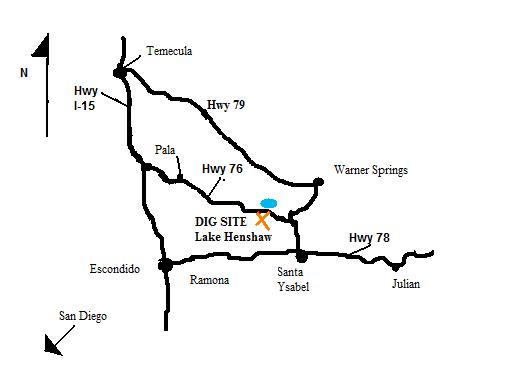 From north take Warner Springs/Indio exit Hwy 79 SOUTH in Temecula. Turn onto Hwy 76. (about 50 minutes from Temecula).
From Oceanside take Hwy 76 EAST to Lake Henshaw Resort.
From San Diego take Hwy 67 to Hwy 78 to Santa Ysabel. Turn onto Hwy 79 NORTH 10 miles to Hwy 76, turn left.
Once you are at Lake Henshaw Resort you will need to go into the store (across from the lake and in the same building as the restaurant) and ask for the mine dig. They cashier will give you a code and directions.
Please follow our directions and DO NOT Google map/quest the Himalaya Mine!